Once upon a time...
there were men who believed that everything can be made out of Water, Fire, Earth and Air. But as they went on to experiment they found out that their theory was far too complicated to be really useful for the world to that time. And as we already know, all of these alchemists died out.

All of them?!
No...
A few of them survived and kept their knowledge and wisdom for many, many centuries...
...in order to wait until the world would be ready for it.

Well, and one day this moment arrived.

But since books or paper rolls were no longer popular, they decided to make a computer game. And after a long, long time of hard work, programming and debugging the game was finished. And when they sat back and saw that it was good and that it worked, they decided to put it on the internet, so that everybody could find out about their work and their wisdom. But while they had been programming and creating their computer game, the world had developed without their notice...
Раздел: Other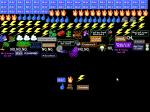 Игровой процесс игры Alchemy
Скриншоты
Операционная система: DOS
Требования: VGA, мышь
Автор: Christian Steinruecken [www]
Издатель: Christian Steinruecken [www]

Добавил: Kindergal (2017.06.11)